New co-created Audio Descriptions are now available for you to enjoy! These two Audio Descriptions were created as part of the project The Blind Harpists: Another Look, funded by the Understanding British Portraits Network.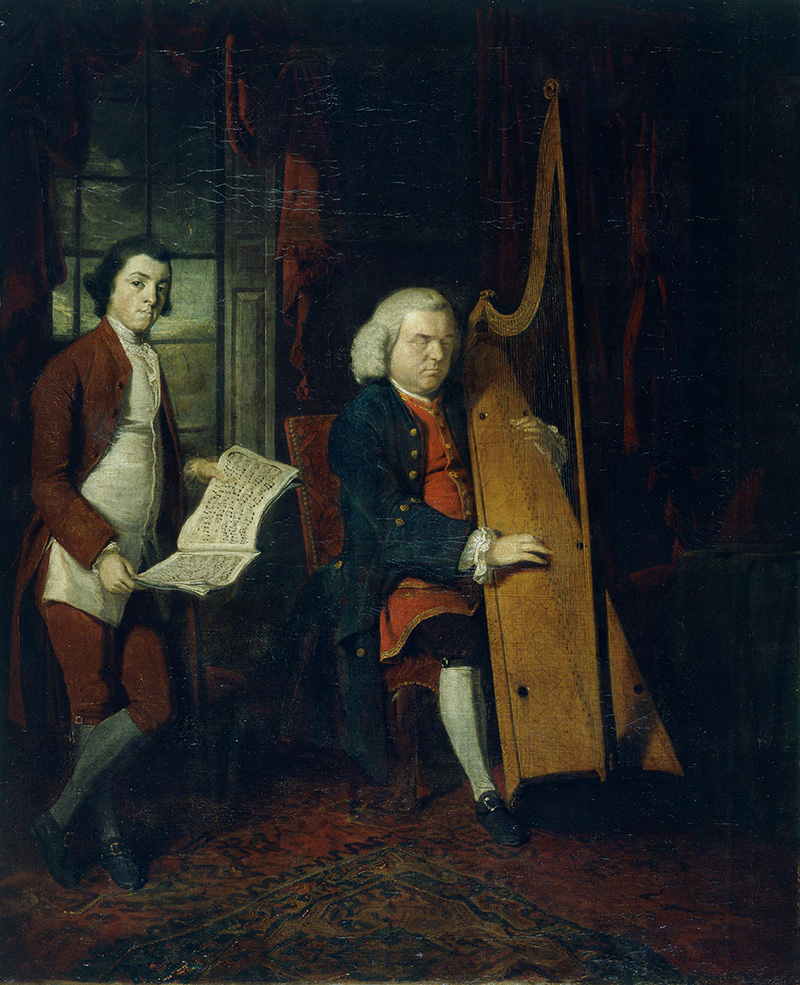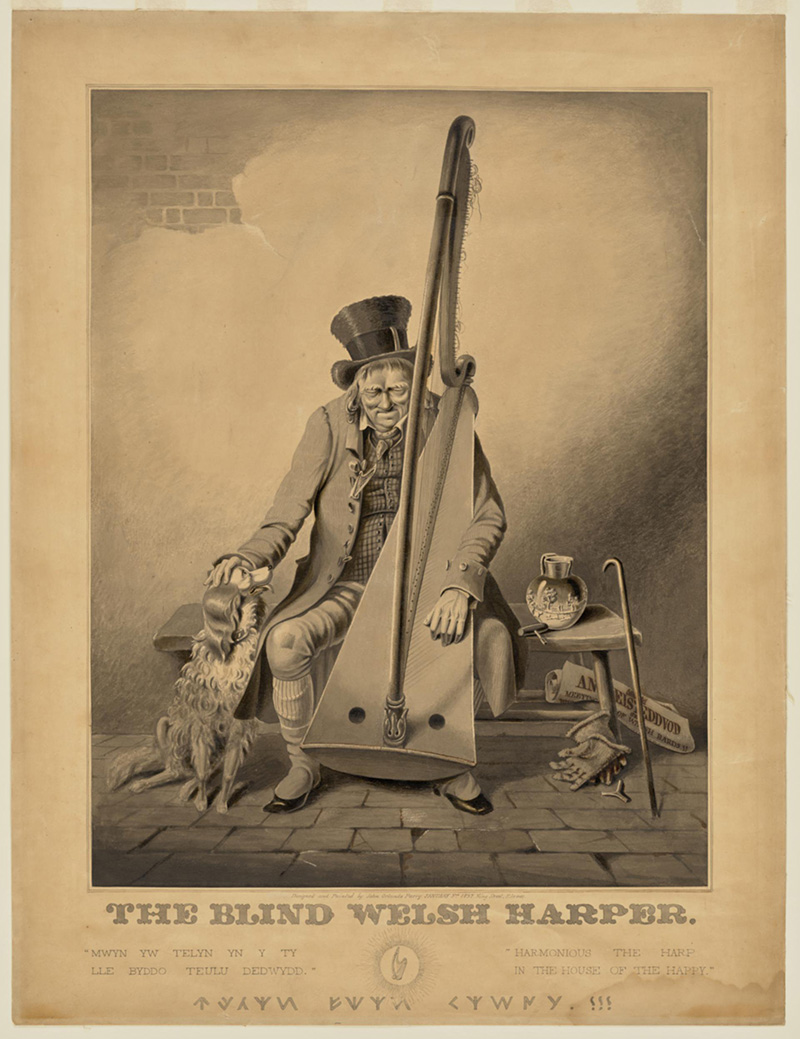 There are at least nine portraits of blind harpists in Amgueddfa Cymru's collection. They have been in the collection for decades, but have always been written about and described from the perspective of a nonblind curator. This project took 'another look' by exploring two of them, John Parry, the Blind Harpist, with an Assistant and The Blind Welsh Harper, from a blind perspective. For this project, I worked as a freelance curator alongside a group of artists and contributors who are either blind or partially blind, to explore the works through conversation and observations. These conversations shaped the new Audio Descriptions below.
First off, what is an Audio Description?
Audio Description is a verbal description of an object. They act as a descriptive guide to an artwork, a prop to help people understand the material, visual, and multisensory qualities of a work. Although usually used as an access tool for people who are blind or partially blind, they can be just as interesting for nonblind people too. These Audio Descriptions are about 7 minutes long. You can choose to listen, or read the full transcript below.
John Parry, the Blind Harpist, with an Assistant, by William Parry
This is an oil painting on canvas, measuring about 90cm high and 70cm wide. There are three characters in the painting: John Parry, the famous Blind Harpist of Ruabon; his assistant; and a harp. They are in a very dark, richly furnished room. John Parry is on the right, sat playing his harp. Next to him, on the left, is a younger man, standing and holding a musical score. He's tilting it slightly towards us, as though inviting us to read. Listen to the audio recording, or read the transcript to find out more.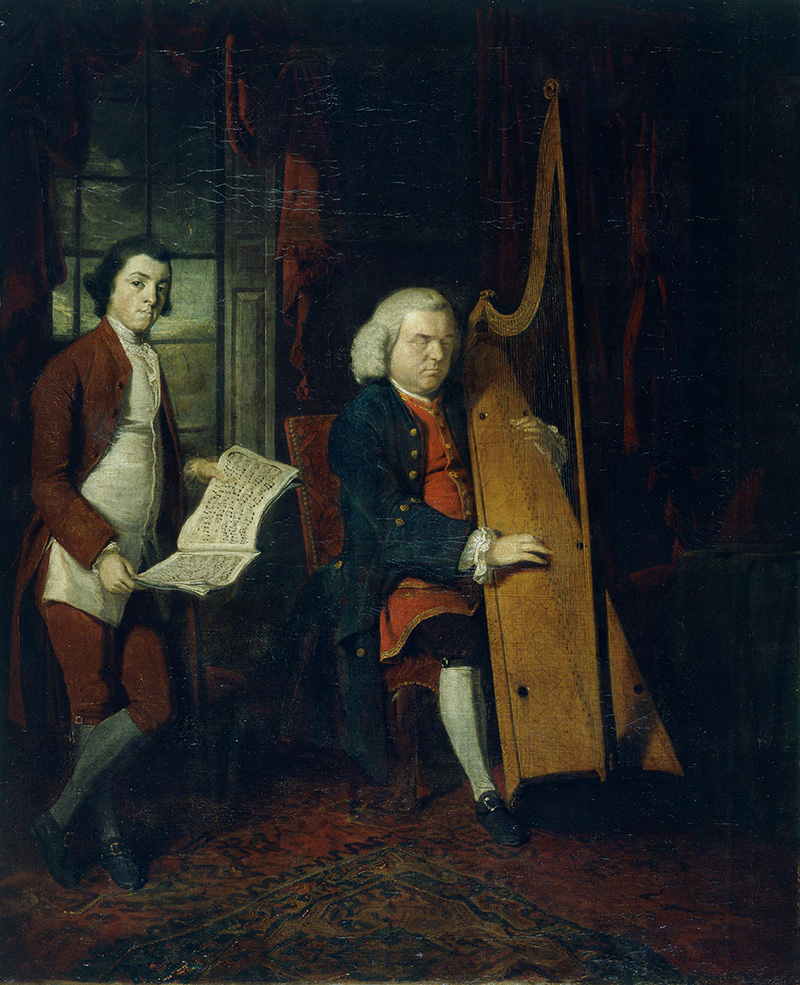 Transcript
This is an Audio Description of a painting called John Parry the Blind Harpist with an Assistant holding a book of Music at National Museum Cardiff. It's an oil painting on canvas. It measures about 90cm high by 70cm wide, so about the size of a small garden gate. It was painted about 1770 by a Welsh artist called William Parry, and is a portrait of his father, John Parry, the famous Blind Harpist of Ruabon.
Let me describe it for you. There are three characters in the painting: John Parry, his assistant, and the harp. They are in a very dark, richly furnished room. This was pre-electricity, so the room would probably have been lit by flickering candles, lamps, or the fireplace. Perhaps the painting has also darkened with age. There's a sense of things hiding in the shadows.
You might assume that a dark room isn't that great for a blind person. But for some people who are blind, dark or dim spaces are a lot more comfortable than brightly lit rooms. It depends on their condition. We don't actually know what kind of sight impairment John Parry had, or how it affected him. But we do know he was blind from a young age, and because of his blindness – not despite of it – he learnt to play the harp.
John Parry is on the right of the painting. He is sat at his harp, his fingers gently touching the strings. His eyes are closed. If I didn't know he was blind, I might think he was lost in his own music. Imagine the sweet sounds drifting through the dimly lit room.
Next to him, on the left, is a younger man, which may be the artist's brother, David. He's standing with one leg cocked over the other, looking quite casual, and a little bit cheeky. I'd quite like to jump into that painting and feel his stockings! He's staring directly at us, like he's trying to tell us something and he's holding a musical score. Maybe he's listening and following along as his father plays. He's tilting it slightly towards us, as though inviting us to read.
It's the score for Zadok the Priest, a classical anthem by George Frederic Handel. You may have heard it – it's the famous Coronation Anthem - or perhaps you'd recognise it from the UEFA Champions League song! John Parry was famous for his masterly performances of Handel's music. Interestingly Handel was also blind. He lost his sight in 1752, about 20 years before this portrait was painted. It's like the artist is saying to the viewer 'your doubts are no reflection of my father's abilities. My Dad can't even see this, but listen!' These are real people, they're in relationship, and I think he's proud of his father.
You can tell they're in a good social position by their clothes, and because they were considered important enough to be painted. They are both wearing typical 18th century clothes: knee-high stockings, buckled shoes, buttoned-up waistcoats, and coats with long tails. John Parry has a white powdered wig, a bit like a judge's wig. His costume is a deep royal blue and red, with big gold buttons. His coat tail trails down the side of his chair. The assistant is wearing a less flashy chestnut brown and white suit. They look like they're dressed for a performance, but they're probably just dressed up for their portrait, like it's a special occasion.
There's a window behind the assistant, looking out over a dark stormy landscape. It's framed by some heavy-looking crimson red drapes. On the floor is a richly patterned carpet or Turkish rug. Everything feels expensive. I imagine the room smells of wood, dusty fabrics, wax, probably mixed with a bit of sweat. It's all very serious and heavy.
The interior is probably based on a room in Wynnstay, a famous country estate in north Wales, and the home of Sir Watkin Williams-Wynn. He was a rich Welsh landowner passionate about supporting the arts. John Parry was the family's personal harpist, and they also supported his son, William, in his career as an artist. The Parrys were well looked after at Wynnstay, and treated like family assets. Sadly Wynnstay was swept by a devastating fire in 1858, and many valuable items and furnishings were destroyed, including John Parry's harp.
John Parry is about 60 years old in this portrait, and was at the height of his career. He was a successful composer, publisher, and in high demand as a performer. He entertained the London elite in their plush homes, and travelled across the country taking part in public charity concerts. He played the triple harp, which means a harp with three rows of strings. In the portrait we can see how it's resting on his left shoulder. This tells us it's a Welsh triple harp, and not the classical continental type which would have been played on the right. John Parry is famous for increasing the popularity of the triple harp, and establishing it as the national instrument for Wales.
There were other blind harpists around at the time, but most of them struggled to make a living. John Parry reached an unprecedented level of fame and success. He had a rare combination of talent, sharp acumen, and the support of a rich patron. But he also used his blindness to his advantage. He built a public persona for himself as almost a living embodiment of the ancient bards of Wales. Bards have long been associated with blindness, so his own blindness added legitimacy to his claim, and enhanced the romanticism of his story, and his public appeal.
---
The Blind Welsh Harper, by John Orlando Parry
This is an ink drawing on paper, measuring about 50cm high and 40cm wide. The title, 'The Blind Welsh Harper' is written across the bottom in bold capital letters. The Blind Harper is sat on a wooden bench, facing us head on, his harp leaning against his left shoulder. He looks a bit dishevelled – his clothes are tattered and torn. He is patting the head of a shaggy dog next to his side. Under his bench is a rolled-up poster with the words 'An Eisteddvod' across the top. Listen to the audio recording, or read the transcript to find out more.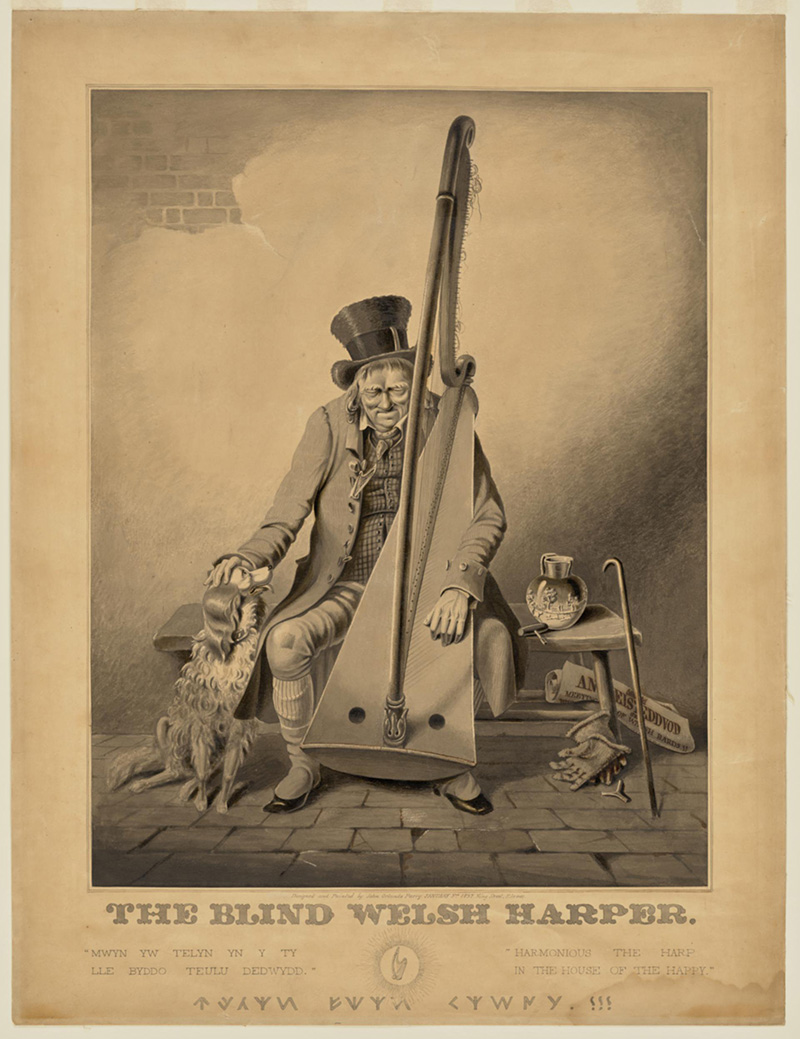 Transcript
This is an Audio Description of The Blind Welsh Harper at National Museum Cardiff. It's an ink drawing on paper, and measures about 50cm high by about 40cm wide. Underneath the drawing is the title 'The Blind Welsh Harper', written in bold capital letters. Above that is a line of much smaller text which tells us the work was designed and painted by the artist John Orlando Parry, on January 3rd 1837, at King Street, St James's, London. Below the title is a quote from a Welsh-language poem, with the English translation to the left. It says 'harmonious the harp in the house of the happy' ('Mwyn yw telyn yn y ty lle byddo teulu dedwydd.'), but I can't imagine a more miserable-looking harpist than our man here!
So let me describe him for you. The Blind Welsh Harper is sat on a wooden bench, facing us head on. He looks dishevelled, slumped forward in his seat. He's wearing a top hat, a long coat, and knee-high stockings, but everything is a bit tattered and torn. His neck-chief is lopsided; one of the buttons on his coat is hanging off by a thread; and his eyebrows need a good trim. There's a patch on his trousers, over his right knee - you can see where it's been stitched on. He looks like someone who's fallen on hard times.
He has a harp leaning against his left shoulder, but he's not playing it. His left hand is resting on the harp's soundboard, while his right hand pats the head of a shaggy-looking dog at his side. The dog is leaning in to the harper and gazing up adoringly. Its little tongue is poking out. It looks like a spaniel, with its long floppy ears. There are other objects scattered around them: a cane leaning against the wooden bench, a pair of gloves on the floor, and next to the gloves a triple harp tuning key.
It's hard to tell whether they are outside or indoors. There are cracked flagstones on the floor. At the top left, a big chunk of plaster has fallen off the wall, exposing the brickwork underneath. There's a beer jug on the bench next to the harper, so perhaps he's entertaining, or busking for money. I could imagine him playing folk songs on his harp – singalong stuff. Maybe the House of the Happy is a pub!
I'd imagine the harp is the most precious thing in his life – or maybe the dog. I wonder how he'd carry it around? You'd need a reinforced van these days! I feel sorry for him, but there is some humour here too. It's almost like satire, or caricature. The artist, John Orlando Parry, was also a comic performer, and a musical entertainer, and his humour comes through in the harpist's exaggerated features.
The harpist is obviously poor, but this doesn't tell us anything about his musical ability. He might be a brilliant harpist, and there are clues in the picture which suggest he can play quite well. Under his bench, there's a rolled-up piece of paper – probably a poster or some kind of notice, with 'An Eisteddvod' written across the top. So maybe he's at the Eisteddfod, or on his way to compete. He's also got a little harp pinned to his jacket. These were sometimes given as competition prizes at the Eisteddfod. I'd guess he was probably quite successful, and maybe he's fallen on hard times. It's like there are all these items from his past and present scattered around him.
At the very bottom of the page is some text in strange looking writing. It looks a bit like ancient Greek. This is the Bardic Alphabet, which was invented by Iolo Morganwg in 1791. Iolo Morganwg was an important cultural figure in Wales, particularly with the early development of the Eisteddfod. He was also a bit of an eccentric. He claimed that the Bardic Alphabet was the original alphabet of the Celtic druids, when in reality he'd invented it himself! If we translate the text, it says 'Wales' fine harp' ('Telyn Fwyn Cymru'), which is ironic, because the harp isn't looking its best. The strings are frayed and tangled at the top, as if the harper has done a DIY job trying to replace them.
You may have noticed that our harper hasn't been given a name. He is just called 'The Blind Welsh Harper'. We can guess from this that he represents a type – a stock character – rather than an actual person. So perhaps, then, we should read the image symbolically. What else could it be telling us? In the 18th century the triple harp had become an icon for Wales, a symbol of patriotic pride. It was enjoyed in pubs, festivals, open air, as well as in the mansions of the upper class and gentry.
But by the end of the 18th century it was becoming less popular, and some cultural commentators were worried it would soon be extinct. So perhaps the poor blind harpist's fall from grace in this image can also be seen as a comment on these fears about the demise of the beloved Welsh harp.
Putting the pieces together
This collaborative way of working questions who has the right to decide what stories get told, and how, and that the meaning of an artwork can never be contained in a single, objective perspective. As one of the participants said, 'we all have slightly different opinions… but at the end of the day we can build up a picture. It's like a puzzle actually. We put everybody's little pieces together'. These new Audio Descriptions are the result of putting everybody's little pieces together. Although read by a single voice, they represent the collective comments made by the group - Bridie, Emma, Lou, Margaret, Siân, project curator Steph, and workshop facilitator Rosanna.
Interested in running your own co-created Audio Description project?
The University of Westminster, in collaboration with the Watts Gallery and Artists Village, the Smithsonian National Portrait Gallery, VocalEyes, and Access Smithsonian, have created a model called W-ICAD (Workshop for Inclusive Co-Created Audio Description). This model gives museums a template for working collaboratively with blind, partially blind, and sighed groups of people to co-create their own Audio Descriptions.
---
Steph Roberts is a freelance visual arts curator, interpreter and researcher based in Wales. Her interests include health and illness narratives, disability justice, and neglected voices in art history. She works with museums, galleries, and other cultural institutions to bring these narratives to life, and has many years' experience developing and delivering creative Audio Described content.
---
Credits
The Blind Harpists: Another Look project was developed as part of a research fellowship funded and supported by the Understanding British Portraits Network, with additional support from Amgueddfa Cymru and Sight Life.
With thanks to the artists and contributors for their enthusiasm and input: Bridie, Emma, Lou and Guide Dog Taff, Margaret, Siân and Guide Dog Uri, Rebecca, and Rosanna.
The English Audio Descriptions are recorded and narrated by Alastair Sill.
The Welsh Audio Descriptions are translated by Eleri Huws, and recorded and narrated by Steph Roberts.
With thanks to the W-ICAD researchers for their advice and guidance during the planning of The Blind Harpists workshop.