Who was Derek Williams?
Relatively little is known about the man himself, who was a very private person. Derek's maternal great-grandfather was the successful entrepreneur William Henry Mathias (1845-1922) who was involved in the creation of the Taff Vale Railway and the development of coal mines and quarries. Derek Williams was born in Cardiff in 1929. He briefly considered a career as a barrister, but instead joined his father, Tudor Williams's chartered surveyor practice.
A modest and private man, Derek Williams enjoyed many pursuits, such as travel, golf, the ballet, opera and theatre. He was also a keen amateur photographer. As a shrewd businessman he built up considerable wealth, which he invested in property and art. During the 1950s he developed a passion for collecting contemporary art. He gained immense satisfaction from building his collection and displaying it within his numerous residences.
What's in his collection?
The collection contains a large number of works by the British neo-romantic artists, including Ceri Richards, John Piper, David Jones and Keith Vaughan. This element is supported by the work of other artists of this period such as Lucian Freud, Josef Herman, Ivon Hitchens, Graham Sutherland, Ben Nicholson and Henry Moore. The greatest strength of the original collection are the twenty-one works by John Piper with their wild and evocative depictions of the Welsh landscape.
Within the original collection there is only one work by a woman artist, Frances Richards, wife to Ceri Richards. A circumstance which perhaps reflects the difficulties faced by women artists in gaining entry to the art world, even by the mid-twentieth century.
Where did he collect?
Williams began collecting in earnest from the late 1950s, when he purchased a work by Ceri Richards from the Howard Roberts Gallery – a progressive, commercial art gallery in the heart of Cardiff. For over ten years he regularly visited their exhibitions, from which he purchased more than two thirds of the works of art in his collection. In July 1969, the Howard Roberts Gallery hosted an exhibition of 'Welsh collections since 1956'. Derek Williams's collection was included, but as a reticent man it was exhibited under the pseudonym 'Portland Collection'.
A Legacy left in Trust
In 1984 Derek Williams died, requesting in his will that his collection and the residue of his estate be held in trust, allowing his trustees to undertake the care and public display of the works of art, in addition to contributing to the enhancement of the collection. The Derek Williams Trust was formed by his executors in 1992, and in the following year made a formal agreement with Amgueddfa Cymru to work together in order to fulfil the wishes of Derek Williams.
Why is the collection now held at Amgueddfa Cymru?
Derek Williams wished for his collection to be viewed by the people of Wales and for it to continue to grow. The collection is on long-term loan to Amgueddfa Cymru. The legacy of this collection places Derek Williams as the greatest benefactor to Amgueddfa Cymru – Museum Wales since Gwendoline and Margaret Davies.
A number of works by leading modern and contemporary artists have been added to the collection including, Michael Craig-Martin, Michael Andrews, Paula Rego, Patrick Caulfield, Prunella Clough and Tess Jaray.
The Trust also has an abiding passion for applied art and boasts a ceramic collection of great international breadth and depth. In 2015, the Derek Williams Trust was fortunate to acquire through bequest the collection of the late Anita Besson, owner of Galerie Besson. This is a fine collection of studio pottery featuring prominent ceramicists such as Lucie Rie and Hans Coper.
What else does the Trust do?
The Derek Williams Trust shows its support for contemporary international art through the Artes Mundi Purchase Prize. The Trust gives £30,000 to Amgueddfa Cymru to enable the purchase of a work by an artist exhibited in the biannual Artes Mundi exhibition. This generous gift has allowed Amgueddfa Cymru to develop a contemporary art collection of international significance. Former recipients of the Purchase Prize include Berni Searle, Ragnar Kjartansson, Bedwyr Williams and Tania Bruguera, among others.
The great generosity and support of The Derek Williams Trust makes possible many acquisitions of modern and contemporary art for the Museum's own collection, including works by David Hockney, Pablo Picasso, Peter Doig, Andrea Büttner and John Akomfrah.
The Derek Williams Trust continues to this day to be one of the greatest benefactors of the arts to the people of Wales, fulfilling the wishes of its founder.
Images:
Derek Williams © Derek Williams Trust.
A painting acquired this year by Tess Jaray called Victory of Eraclio 2, 2019, acrylic on board, © Tess Jaray/Derek Williams Trust.
The installation image is of the Anita Besson collection that was bequeathed to the Trust in 2015 Image © Amgueddfa Cymru.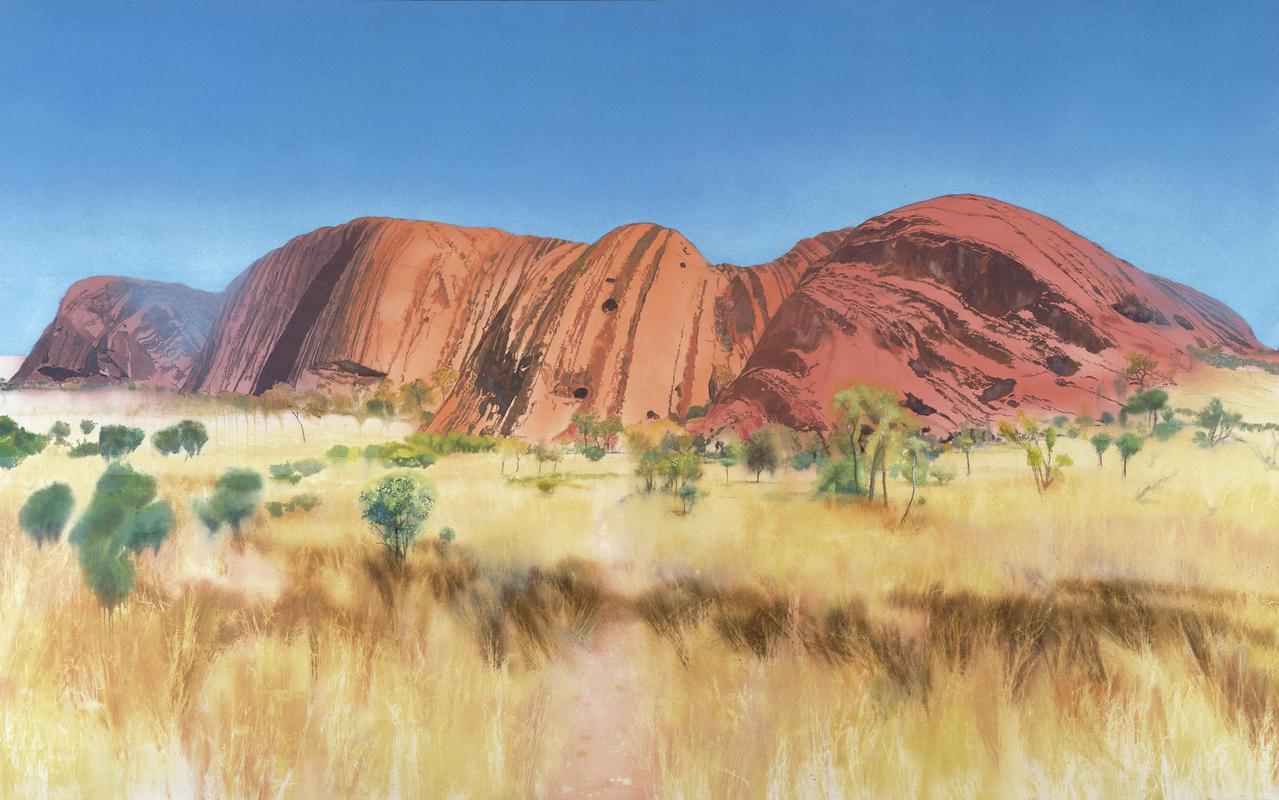 ANDREWS, Michael
© The Estate of Michael Andrews/Tate Images/Amgueddfa Cymru - Museum Wales