Football is often described by supporters as an art, something that can resemble an art form of the purest nature when played to its full potential.
There is a clear link between football and art that many may not consider. Both artworks and football can give an area and its people a sense of identity. It's all about the way something makes you feel: football can send you through all the emotions in the same way that art can trigger an emotional response. So two worlds that will feel poles apart to many are actually more alike than we might think.
Can football therefore be considered as a form of Contemporary Art? Let's take a look at this from the Welsh perspective…
Wales is currently experiencing a golden age of football, something that fans who have followed Welsh football have fantasized of for years. Reaching 3 consecutive major tournaments is beyond many supporters' wildest dreams, and something they had never let themselves imagine. As a member of the Red Wall myself and a member of the Learning Department at Amgueddfa Cymru, it got me thinking about how Welsh football is portrayed and documented in the art collection? And how is Wales' relationship with football portrayed in the Art world?
When someone thinks of Wales, the sport perhaps stereotypically associated with the country is rugby, but when looking at the images held in the collection at Amgueddfa Cymru, you get a sense that football has always held its own but perhaps a little more under the radar.
HURN, David
© David Hurn/Magnum/Amgueddfa Cymru - Museum Wales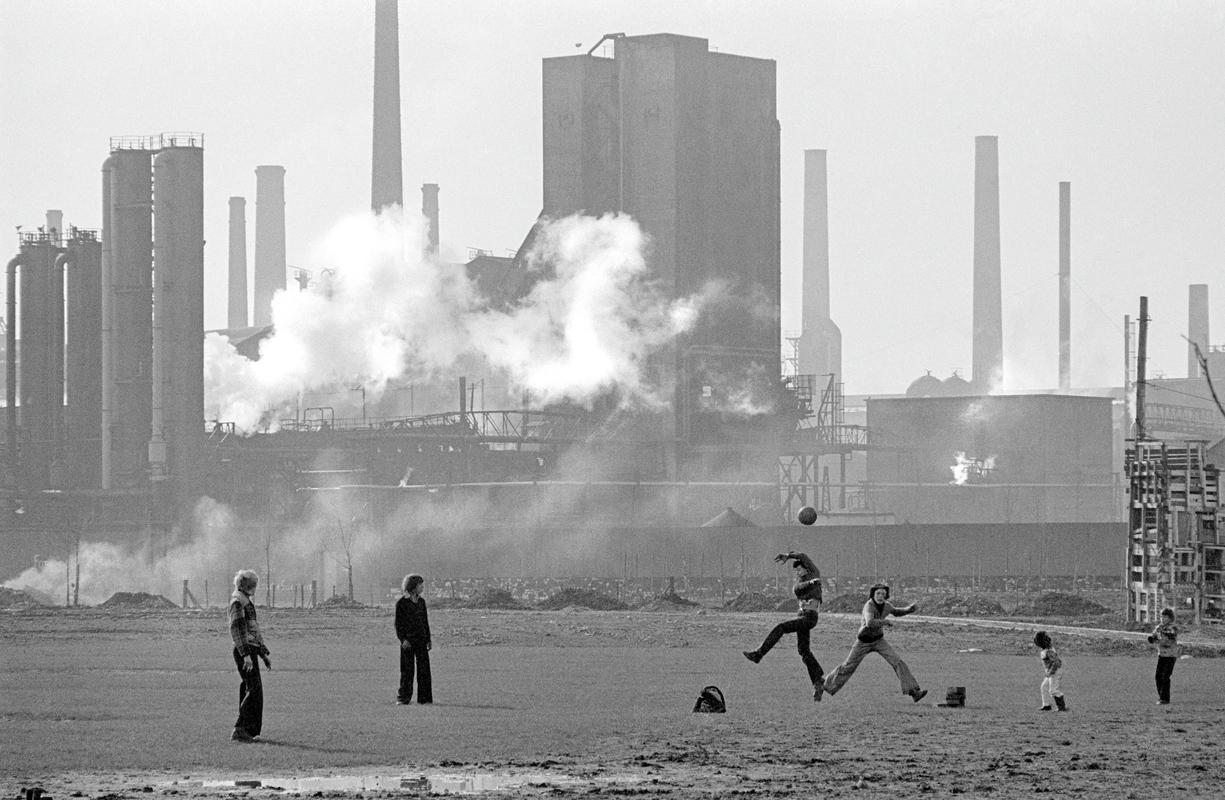 HURN, David
© David Hurn/Magnum/Amgueddfa Cymru - Museum Wales
Both backdrops you see in the photographs here by David Hurn are representative of Wales past and present, the historical notion and romanticism of castles, and the more modern industrialisation of Wales in the image of the steel works. Both these photographs also represent how football in Wales can be played anywhere; it's the game of the people. Come rain or shine, be you in the ruins of a castle or a patch of grass next to the steelworks, football has always been important and continues to be important to Welsh society today. Capturing photographs of this nature can give people a sense of nostalgia, looking back at where they would play while growing up in all corners of the country, but also both of these images are timeless. They could have been taken yesterday, as these scenes are repeated on a daily basis.
The sense of identity surrounding Welsh football is changing. Supporters and players alike are becoming embedded in the culture of Wales, the images of bucket hats and the blaring anthem of 'Hen Wlad fy Nhadau' and 'Yma o Hyd' are now part and parcel of any Welsh football match. Depicting these scenes through the medium of photography is then the perfect way to showcase football within the art world.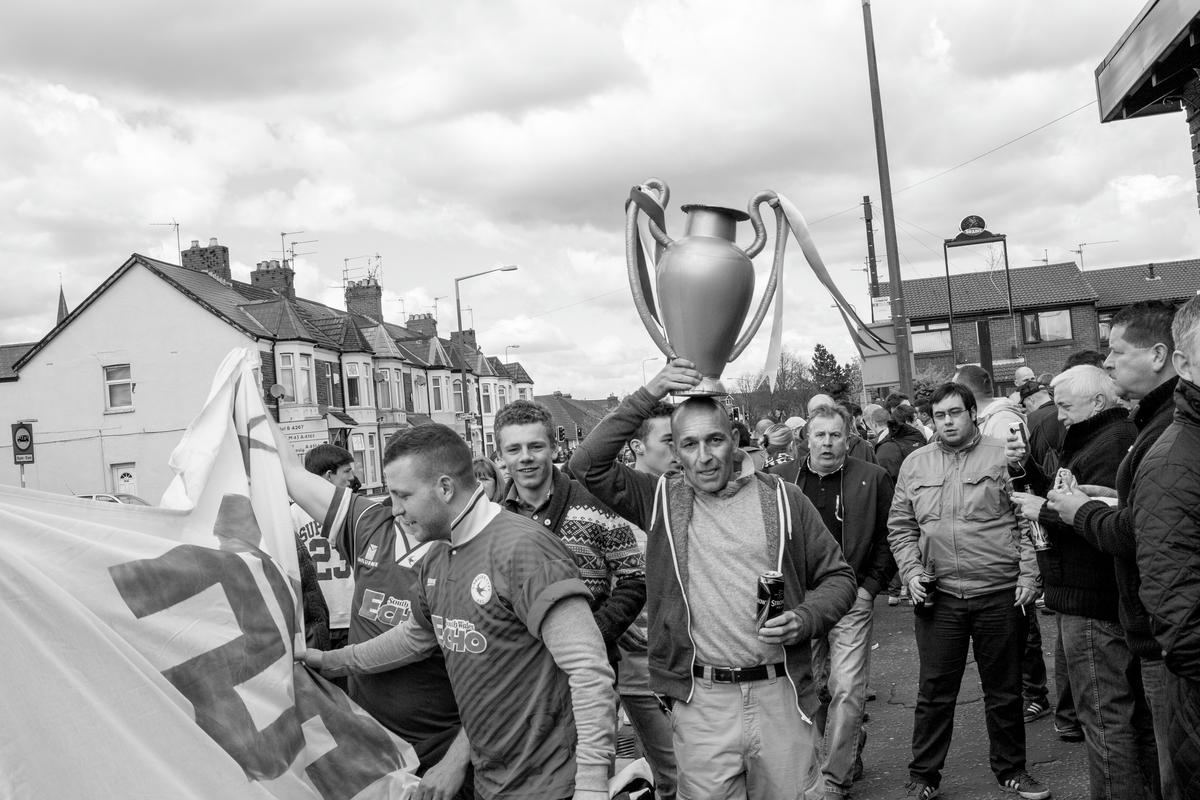 HURN, David
© David Hurn/Magnum/Amgueddfa Cymru - Museum Wales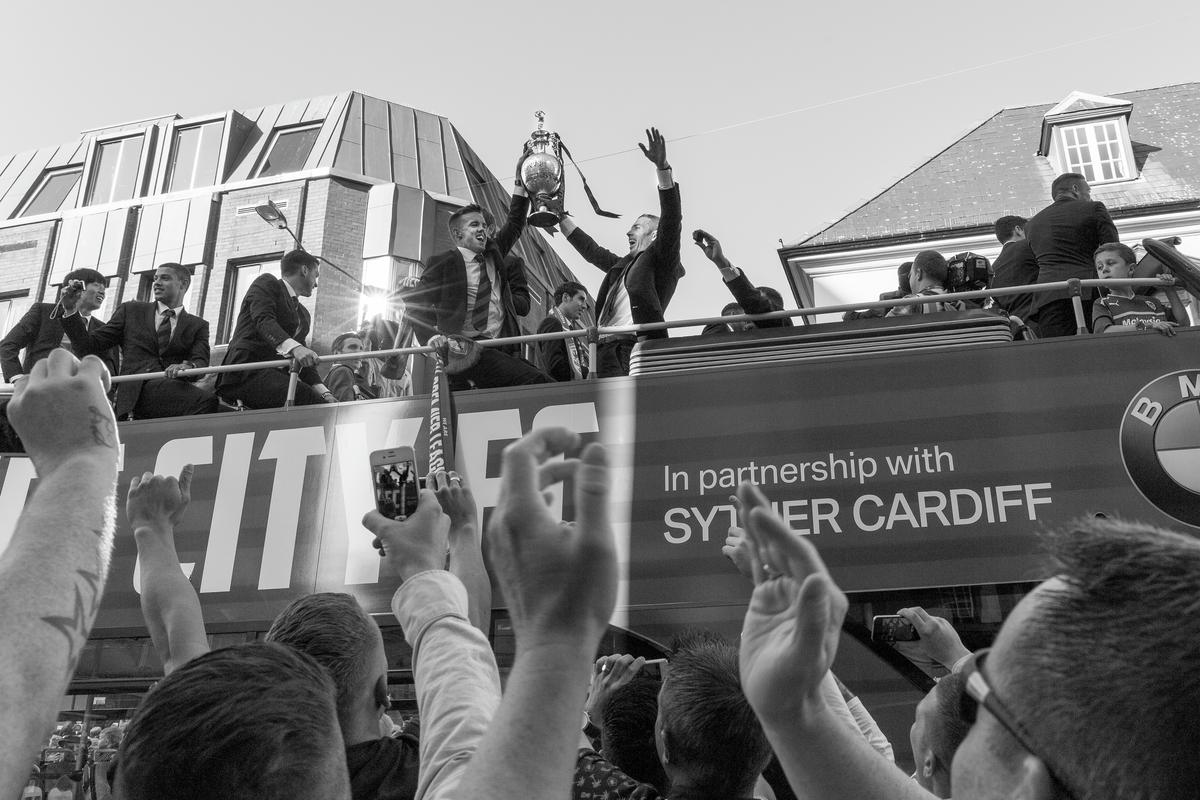 HURN, David
© David Hurn/Magnum/Amgueddfa Cymru - Museum Wales
Take these pieces depicting the scenes of celebration following Cardiff City's promotion to the Premier League in 2013. This shows the power of photography at capturing moments in time that have a cultural meaning to a community, country or people. This is one reason why documentary photography connects so many people across the world.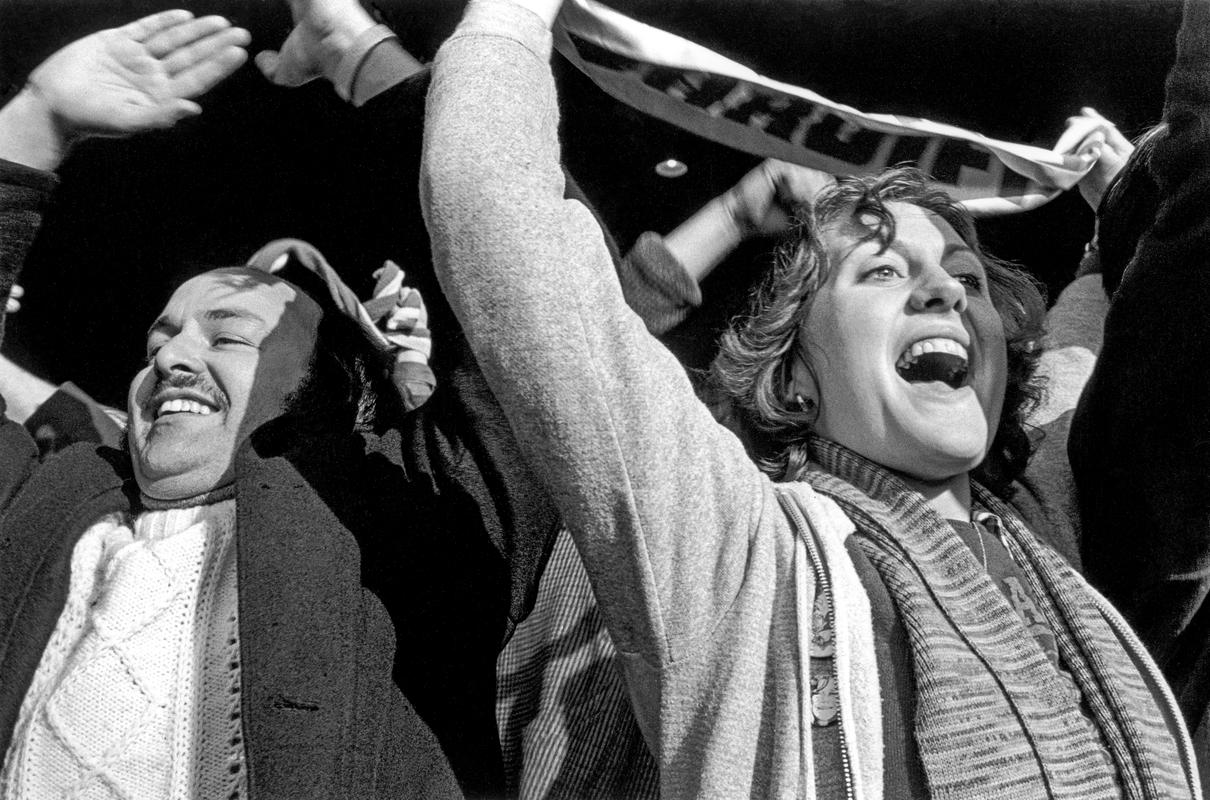 HURN, David
© David Hurn/Magnum/Amgueddfa Cymru - Museum Wales
I believe many would automatically disregard football as being considered part of the art world without giving it a second thought. However, when something can trigger such an emotional response, I believe they are in fact much and the same. When looking at the reaction of a crowd, player or country to a goal, or a win, or just the to and fro of 90 minutes, there is something within it that resembles a piece of art. Find me a photograph of a full Cardiff City Stadium on an international match day, and try to argue with me that that isn't a piece of art in itself…