1. Upbringing
I was raised in a small town near Lisbon, a rural suburb that became one of the most industrialised areas of the outskirts of the capital in the 19th and early 20th centuries — quite similar to the Rhondda Valley in south Wales — where people from north and south Portugal would move in to work in cork and paper industries, ceramic production factories and ammunition manufacturers. Some of its architectural heritage has been preserved but most of the buildings were demolished…
From the window of my bedroom, at my mother's house, I could gaze at a mountain and spend time daydreaming, abstracting, seeking solace and creating stories, narratives and characters: A lady who lived inside my stomach breeding butterflies; a romance between two men caged inside my lungs, writing love letters and sending them by smoking and exhaling the words to each other through the pipes inside my lungs; and a girl who would play harp inside my throat.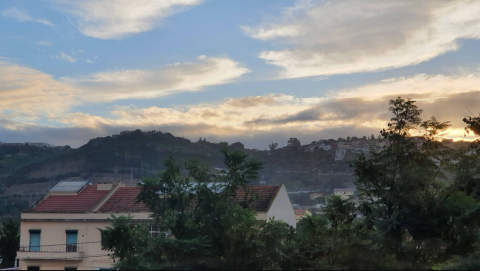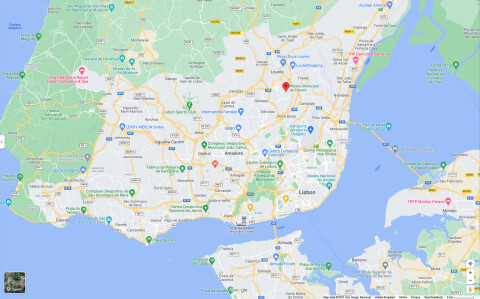 Untitled, charcoal, coloured pencil. 2004
Ulcer, watercolour, pen markers. 2005
Ulcer, watercolour, pen markers. 2005
Smog, ballpoint pen on cheap paper. 2008
Thorax, watercolour, cigar ashes, pen. 2006
Thorax, watercolour, cigar ashes, pen. 2006
2. The Discovery
My decision to come to Wales was a happy accident. I didn't know anything about Wales. I knew it would be a place where there's nature and city life, so yes, that's the place I want to live in, I thought.
I left my artwork behind to start a new chapter from scratch, to challenge and to discover myself. In less than a year, my rented room in Cardiff was already filled up with paper, sketches and drawings. Couldn't help it. It was like an involuntary action — soothing myself with drawing. Over the last three years, I've created an abundance of work but still, I felt quite unsatisfied and wanted to push myself further.
The frequent visits to National Museum Wales motivated me in discovering my new identity and therefore, the culture of my new home. Exploring the works of artists in the late 18th century who were inspired by the Welsh landscape, dragging with them the ideals of Romanticism to meet future generations by remembering the industrialised landscapes, overloaded with awe, beauty and tragedy, encouraged me to create.
The sublime landscapes of Richard Wilson and Thomas Jones paintings, the burnt sculptures of David Nash, the current Vertigo Sea video installation and the Polluted Pool at Maindee, by Jack Crabtree, all caught my eye.
Steelworks Cardiff at Night, by Lionel Walden, is the inspiration for The Betrayal Cycle — the series of work I've created as part of this commission. Initially the source of inspiration for the aesthetics of Stage Four Denial (to cover a tower with red fabric), soon it became the reason to choose Port Talbot as the location for the first stage.
Originally from Connecticut, Lionel Walden lived in Falmouth, on the Cornish coast for four years. His painting depicts the height of the Welsh steel industry. The Dowlais-Cardiff Works were built in Cardiff East Moors in 1887-1897 due to its convenient sea access. Later in 1978, the building was demolished and redeveloped...
David Nash, National Museum Cardiff 2019
David Nash, National Museum Cardiff 2019
Lionel Walden, Steelworks, Cardiff at Night 1893-97
Stage Four: Denial, Blaenavon, south Wales, 2021
Stage One The Bond, Performance, Port Talbot, south Wales. 2021
Jack Crabtree, Polluted Pool at Maindee. 1974
3. Artists Respond to the Now
This commission allowed me to find my voice and motivated me to create meaningful and impactful work. It allowed me to invest in materials, experiment with video, photography and performance, which felt like trespassing. These were unexplored mediums to me, which made me confront feelings of doubt, impostor syndrome and anxiety. Through this process I achieved positive and unexpected results, and also significant insights about my creative practice.
The use of video and collaborating with others on this aspect was beneficial for the development of my practice. My collaborators and I made the work while exploring and learning about Wales, and always looking to set the relationship and find comparisons between the damage on the landscape and the stitches on my body.
Seeing myself on video gave me a different perspective and confronted me with the e question of my place and identity in Wales. It is a clear fact — I'm a Portuguese artist living in Wales.
In response to this challenge and to defy myself in experimenting with new mediums, the body of work The Betrayal Cycle unfolds as a search for belonging whilst 'mending and fixing' the landscape. Comprised of performance, site specific installation, video, photography and drawing, it reflects on human nature and the consequences of our acts. Dismissive, destructive, narcissistic and corruptive, as well as betrayed, emotional and hopeful — the result of witnessing a damaged landscape that links to the emotional imprint on my body.
The Cycle is split into a narrative of 6 stages. The stages are: Stage one: Bond — the exercise of drawing is replaced by carving new commitments. Stage two: Doubt — stitching crumbling cliffs together with blue dyed fabrics Stage three: The Discovery — witnessing the bleeding of the South Valleys. Stage four: Denial — covering wounds in several failed attempts Stage five: Grief — accepting fate and the release of sadness and trauma Stage six: Redemption — to drown hopeless, surrounded by swans until the cycle starts again.
GALLERY STUDIO IMAGES, Bond TESTS, FAILS///
Studio experiments, dyed fabric sculpture
Studio experiments, carving on moulding powder
Sewing experiments, Studio.
Sketch ideas for The Bond. SketchBook.
The Bond test, Burry Port, south Wales.
The Bond test, Burry Port, south Wales.
4. The Betrayal Cycle, The Bond
The initial idea for The Bond was based on the origins of language. As hunter-gatherers, we would develop ways of communicating in our community to defend ourselves from other tribes and protect our territory. I find it fascinating that language has its origins in gossip.
With this idea in mind, and taking drawing as a language, the performance is a celebration, a ritual for acceptance, a pact between man and earth for protection and care.
Stylistically, it is a translation of detailed drawing on a large scale canvas, loyal to its meditative state. With a drone view, the performance refers to carving a contract to protect the planet — an emotional response similar to Francis Alÿs' work, When Faith Moves Mountains.
Inspired by Walden's painting, the environmental upheaval, the continuous burning furnace of Tata Steel at Port Talbot and the eerie industry in the background while the sea reaches out to claim its presence, this is the setting for the narrative of bonding with a new home.
During the 18th century, the Industrial Revolution and Romanticism was at its height, and nowadays, we are dealing with its consequences as floods threaten our cities and many species have adapted to change as we have gone from romantics to self-obsessed, ego-driven narcissists sharing our morning cappuccinos on social media.
We are racing against time to save the planet. We are trying to mend and fix things as we get offended by anything and everything along the way. We perform authenticity, we crave approval. We are corrupt and hopeful.
Our human existence is a tragedy, only humour can save us.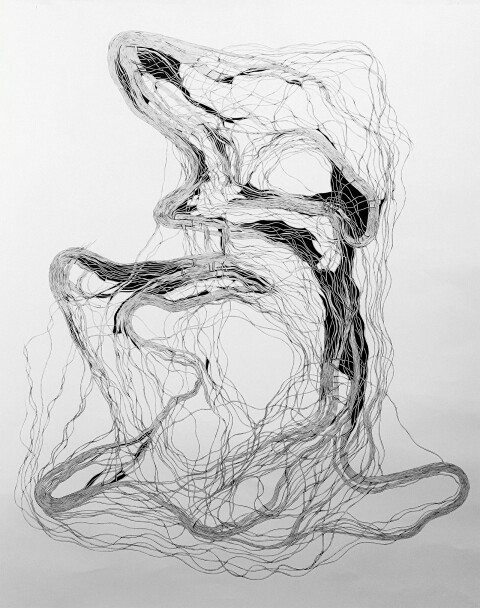 The Betrayal Cycle, Stage One: The Bond, Port Talbot, South Wales. 2021 (MAKING OF)
The Betrayal Cycle, Stage One: The Bond, Port Talbot, South Wales. 2021 (PERFORMANCE)
5. The Aftermath
This commission has brought so many discoveries, and the development and journey I've undertaken has been amazing. Right now, I'm at the point where I'm creating artwork that brings the narrative together, incorporating the stitching based on my scar on the fabrics and drawings. Drawing has become more intentional and strategic, whilst preserving its emotional and meditative features.
I've developed criticality and conceptual thinking as narrative unfolds along the way. This body of work has found ways to expand in a more cohesive form — by being aware of the world around me, by questioning acts of betrayal in our human behaviour, allowing space for collaboration and discussion.
How do our actions translate into acts of betrayal?
What commitments have we made to be better human beings?
Read more about my work at www.joaosaramago.net and follow me on instagram.