In preparation for an artist talk with the Glynn Vivian Gallery, I spoke with the artist Marc Rees on the themes we would discuss around my project Malum, which was on display at the time in the gallery. What came to the surface quite quickly was an insecurity around the fact-based, art historical side of the project. Dates, names, and relationships were among the restricting factors which have not only dictated how and why I make, but were leading the conversation away from the issues in the LGBTQ+ community which I was attempting to highlight. The talk with the Glynn Vivian did not go ahead, but my conversations with Marc were a much-needed restart and kick in the right direction to begin making new work. A couple of weeks later I was nominated for the project Making New Work: Artists Respond to the Now – perfect timing!
In late 2020 I moved into my first home with my partner, a small end-of-terrace in Swansea. As many artists feel the need to when entering a new space, whether it be a home, studio, or country, I felt the need to respond to my new space, and reflect on how two gay men orientate themselves and their belongings in a home. I was asking the question 'what is a queer domestic space and what distinguishes it from a (stereotypically) heteronormative domestic space?'.
I started thinking about the things that characterise my home, documenting pieces using an early photographic process called Wet Plate Collodion, producing Tintypes with a large format camera using the following process:.
Coat black aluminium plate in Collodion – I use Poe Boy
Place the plate in a Silver Sensitising box filled with Silver Nitrate Solution for 3 minutes. This makes the plate light-sensitive and now must be handled under red-light.
The plate is removed from the box, the back is wiped, and excess silver nitrate solution dripped off, before it is loaded into a plate holder and placed into a 5x4 large format camera.
An exposure is made, which is usually around 10-15 seconds.
The plate is removed from the camera and developer chemical is poured over the plate – an image starts to appear.
The plate is then placed in a fixer chemical, which reacts with excess silver nitrate and clears the plate to unveil the captured photograph. The plate is then dried.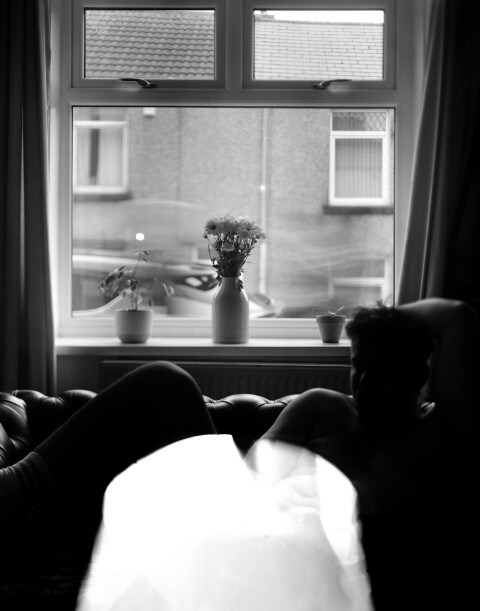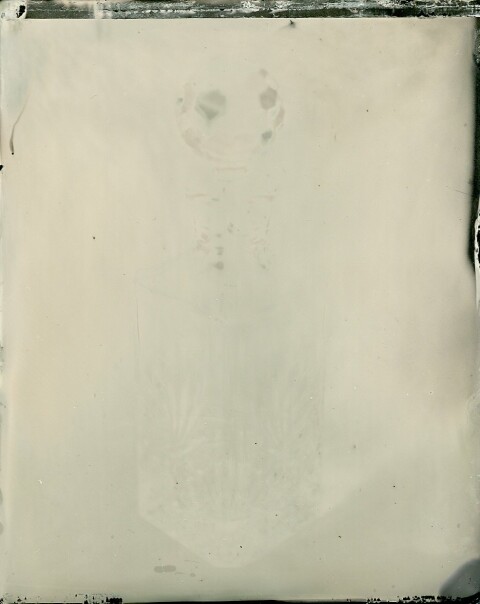 The Tintype images are beautiful, silvery objects which provide an extra dimension to photographs, moving into the possibility of installation. I also felt it important to use a method which documented its subject in a format which has a strong physical presence. What was particularly interesting was the elusive cut-glass decanter, which avoided being captured on my lens. Of course, I could possibly change the lighting and use a different backdrop to better capture the decanter, but there was something quite beautifully ghostly about it, alluding to the idea of a presence in my home – possibly the essence of my grandmother. My grandmother, Ann, has filled her home with cut-glass and crystal, such as glasses, decanters, and sculptures, and the reality is that there are many things in my home which take on the likeness of my grandparents. I do find myself drawn to heavy pattern rugs, leather-studded sofas, rich materials, and rich colours, all of which could easily look at home in my grandparents' house.

The image below is a portrait of my grandmother, shot on Kodak 5x4 colour film: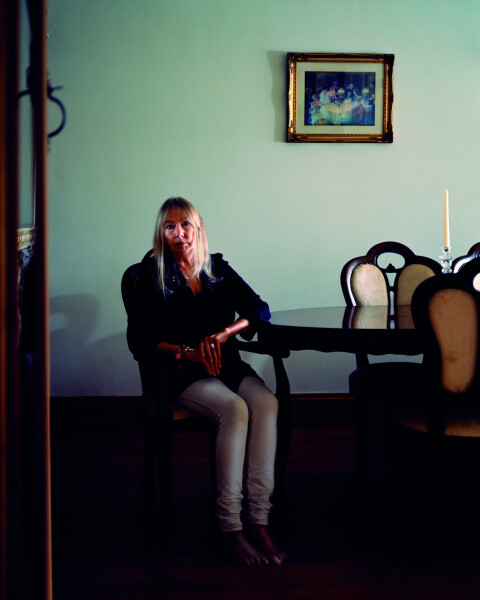 My grandmother has worked as a seamstress throughout her life, working in factories as well as working independently in her own sewing room. I recall, when I was a child, going up to her sewing cabin in my grandparents' garden, which was over-spilling with fabrics and material and tools - something which I would now consider as an artist studio. It is possible that in making my home a safe, comfortable space, I find refuge in replicating the creative freedom of my grandparents' home. I created a recording of my grandmother showing me around her home, talking about what characterises it, the things that are important to her, and general decisions and histories of the things there. What was quite interesting was her escapism into a print she has in her dining room, seen in the portrait above. She states:

"I absolutely think that is fantastic. They are having a dinner party. What I like about it is ... the person I bought it from called it The Old Gents ... I wanted the very big one. [What do you like about it?] Elegance, and all the lights, the silver teapots, the way the women are dressed. Look at the flowers around the table and the lamps. Whoever dressed that table has dressed it to perfection. That's why, when I do my table at Christmas time, I put all sparkly's out on the table"

It is without doubt that my grandmother is quite heavily drawn to the image, but more so the fantasy of the image, how she envisages transforming her space into a similar space at Christmas time. It is an escapism through material and atmosphere which I am similarly doing within my home.

"Do you think they know we're gay?", a question asked to me by my partner, Dylan, early 2021. Whilst sat in our living room, we heard scratching at our door and could see the silhouette of a young person. I shouted, and they ran off. I opened the door and there was a plastic rod-like object sticking out of our letterbox, which the young person had tried pushing through. The question posed is very simple, but very important, did that young person know we are gay? What is interesting, is that the question is more important than the answer, which we may never get. I assume this young person didn't know we are a gay couple living here and that it was not motivated by homophobia. The fact that this is a question which a 29-year-old gay man will ask is very telling of how we feel we are received by a community, and the possible presence of homophobic behaviour that may be or is directed towards the LGBTQ+ community.

Now, I have always lived in homes that had some form of entrance area, a hallway, or a seating area, but in our new home the front door opens directly into our living space. This is the reality of course for many people, but this lack of boundary between the public and private sphere has been an issue for me, and then to have the boundary breached through the letterbox was slightly unnerving. Not just this, but our living space has the largest window on the street, giving passers-by a very good view of our private space, and a very good look they enjoy having! Paranoia has set in – does everyone know we're gay? What do they expect when they look in here? Are we referred to as the gays at the end of the street? Is my living space a performance area? I recognise such questions are perhaps fabricated, but they have encouraged me to pursue a few connected themes.

A camera locked off at my window and a camera locked off at my sofa makes up a video piece I have been thinking about and experimenting with. We have a fairly large TV in our living space, and I am very aware of what we watch. It is almost as though if I'm sat in my living room watching RuPaul's Drag Race, and someone passes the window and observes me watching it, they would realise that I may be gay. There is also something important about queer experience and TV, where many queer people would have some early memory of experiencing or having some form of queer awakening through film and TV. For this video I sat and watched Brokeback Mountain, which is one of my first experiences of seeing a gay relationship on TV depicted as a love story. A film I was able to connect to, but was mocked relentlessly for watching, resulting in a lot of underlying shame around it. The idea was to test myself by semi-publicly watching a film which evokes some difficult emotions, almost as a form of performance. This is then captured by the locked-off cameras. Through editing, each document has been placed side-by-side to create a 1080x3840 format, which helps to communicate that both documents were recorded at the same time.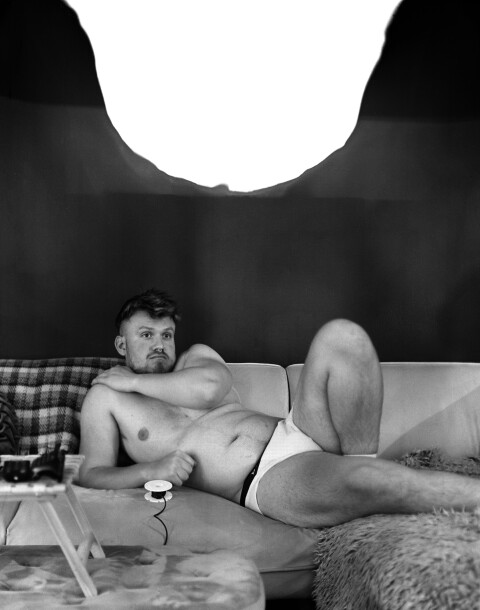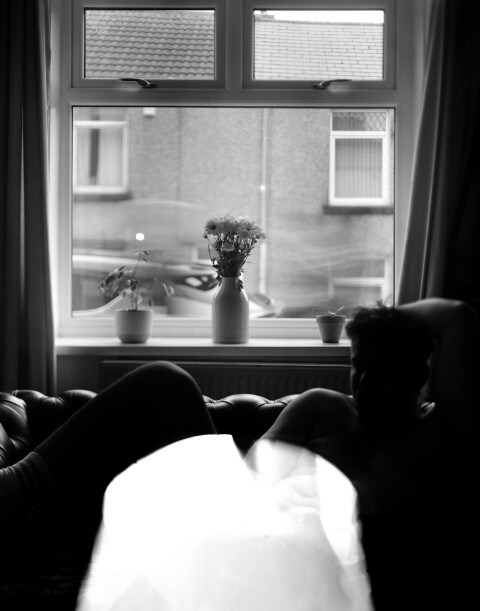 Creating rules being a popular way for photographers and artists to make work, I used the rule that whenever someone would pass my window, I would squeeze the remote shutter on my 5x4 camera and take a photograph. This was done whilst on my sofa in front of said window, and on the sofa which appears in the video. Whilst sitting on the sofa in front of the window, my TV was angled towards me (and the window) which brought rise to a wave of anxieties, to the point of having to return my TV to its original position. The idea of a passer coming by as I am watching a gay sex scene from the film brought up feelings of shame, something which requires investigating and creating work around. The 5x4 images, shot on Ilford HP5 black and white film, provide a monotonous repetition, and would work better as a larger body of images – I can see it as 20+ images of this sort.

There were some issues in the developing of the 5x4 film which resulted in defects on the top or bottom of each frame, but I could see these images slotting together at these areas, which is exactly what I did in post-editing:

Suddenly we have this void that sits between the images, creating another window. Windows seem to be collecting in the work, whether it is a glass window into my living space, the TV as a window to queer experience, or a print in my grandmothers dining room as a window to fantasy. A mentor of mine, artist Holly Davey, mentioned how she almost wants to climb through and into the void between the images, which sparked an idea to print out the image, and physically cut out the void and experiment with it in a studio.

This void has a few possibilities, and some early experimentation in the studio has me reaching my arms through with a clapperboard – which is a slightly comedic reference to this idea of performance in my domestic space and the influence of film in making the work. I am seeing this void or that shape as a window of possibilities, and in those possibilities, I am seeing my grandmother and her space, like a sort of compression of time and space.