Music and lyrics: Sweet Baboo
Cover image: Martin Parr – Snowdonia, Wales. 1989
© Martin Parr / Magnum Photos / Rocket Gallery

I wrote a song in response to Martin Parr's Snowdonia 1989 photograph. I first saw this photograph in the Martin Parr in Wales exhibition, which was the last exhibition I saw at the Museum. I wanted to write something that could be from the perspective of either person in the photograph, or both. The photograph appealed to me as it reminded me of my childhood and growing up in and around Snowdonia. I was born in the '80s and my family have countless pictures like this in the archives.
I constantly worry that I will one day run out of inspiration to write songs and so to have an image or an idea to inspire was amazing. I had wanted to write a song with the opening line 'I miss you' for a while and once I saw the photograph it all came together very quickly. I imagined myself as a '60s balladeer crooning on a stool on an old black-and-white television programme, cardboard set behind. The words were finished that same night and I recorded it the following day. I'm pretty pleased with the result and it has given me an idea to do more writing like this.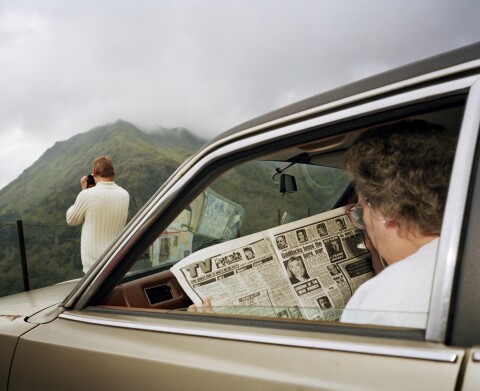 Sweet Baboo
Stephen Black has been performing as Sweet Baboo for over twenty years. He is a musician and songwriter and has released seven critically acclaimed albums and has performed all over the world. He is currently working on a new album scheduled to be released in 2022, his first since Wild Imagination was released on Moshi Moshi records in 2017. It's tentatively titled The Wreckage. Black is originally from the coastal town of Colwyn Bay in North Wales but has lived his adult life in South Wales.
See more at http://www.sweetbaboo.co.uk/