Whilst browsing through Amgueddfa Cymru – National Museum of Wales's collections, I came across an old calotype photograph, depicting a Valletta (capital city of Malta) street scene, taken by Swansea-born Richard 'The Rev' Calvert Jones (1804–1877) around 1845/46. Recently, my application for dual citizenship with Malta has been approved and so discovering this connection between Wales and Malta – my late grandfather's birthplace – felt very poignant to me on a personal level.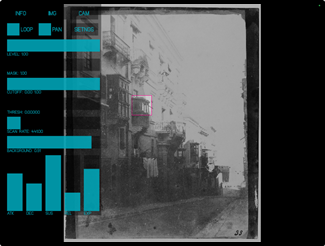 Calvert Jones was one of the earliest pioneers of photography, being a friend of William Fox Talbot, the creator of the calotype photograph. Calvert Jones's daguerreotype image of Margam Castle in south Wales is believed by many to be the earliest photograph taken in Wales. He was also the first person to develop a technique to create panoramic views, by placing negatives of two or more adjacent views side-by-side and hiding the joins by hand. He was also probably the first person to edit photos, which he achieved by using Indian ink on negatives to remove figures so that they don't appear in the positives (see Capuchin Friars, 1846). All of this innovation and I had never heard of him, despite being raised in the land of his birth in a family of photography enthusiasts. I wanted to change that and help bring attention to his achievements.
As Calvert Jones was also interested in new technologies and had embraced slicing up and manipulating images to create something new, I thought this photograph would be an ideal starting point for me to do the same with music.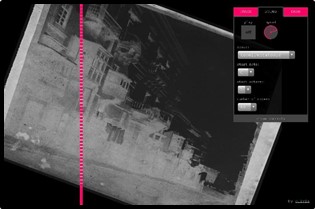 The first step of my process was to upload Valletta Street Scene into Vosis, Dominik Seibold's Acoustic Picture Transmitter (APT) and Olivia Jack's Pixelsynth Experiment. These pieces of software enable the user to extract sound from images in different ways. Vosis allows you to 'play' the picture by passing your finger over different areas in the image, APT creates rhythms by transforming images into a spectogram and Pixelsynth creates melodies and rhythms by reading the different shades and shapes in the image, giving you the freedom to change tempo, scales and the amount of notes played. I recorded these sounds and put them into a DAW.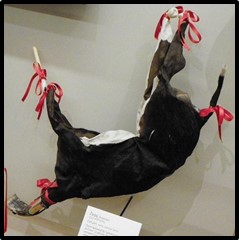 Next I began to think about the similarities between Malta and Wales. As a trumpet player myself, something which immediately stood out to me was that both nations have a strong brass band tradition. I remember one summer whilst visiting relatives in Malta, a discussion comparing the brass band I was in at the time, Wonderbrass, to my cousin's marching band in Qormi. He was just about to perform tenor horn with them at his village's annual 'Festa' in honour of St George, whereas the previous week I had marched through Cardiff blowing my own trumpet with Wonderbrass in the Pride parade. I chose to use a recording of a traditional Welsh brass band to reflect the era in which the photo was taken and because I wanted to feature a familiar and Welsh tune. I found a recording of Treorci's Cory Band playing 'Men of Harlech' and it seemed perfect for the job. With regards to a Maltese brass band, I had been to a Festa in Valletta in 2019 and had video footage of a local marching band. I extracted the audio and processed it for inclusion in the piece.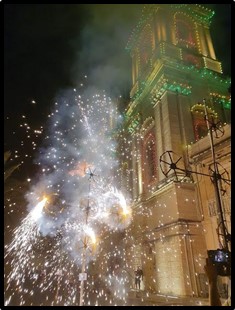 I also wanted to include traditional instruments from the two countries. The most obvious choice from Wales is the harp, but alas I am not a harp player nor do I own a harp. In the spirit of Calvert Jones, I innovated and made use of a computerised harp, recording an improvisation. It was the same story for the żaqq; an unusual Maltese bagpipe made out of a whole premature calf – including its legs and tail. I don't have (or want!) access to a żaqq so I adopted a similar approach as I did with the harp and generated a digital żaqq by manipulating a Middle-eastern pipe synth. This instrument is traditionally accompanied by a tambur, or a tambourine, so I also recorded a few bars of myself playing my own tambourine.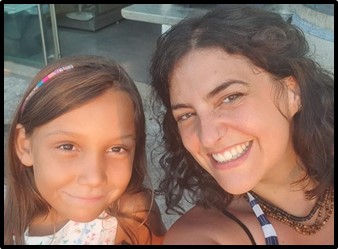 Another important part of Maltese culture is its fireworks tradition. Maltese ground fireworks, or Catherine Wheels, are some of the most impressive sights I've ever witnessed. I had footage from the Malta Mechanised Ground Fireworks Festival at Floriana (near Valletta) from when I visited in 2019. I extracted the audio from different types of Catherine Wheel and used it in the piece. I couldn't include the fireworks without also including the sound of the cannons at the Saluting Battery in Valletta, whose origins date back to the Great Siege of Malta in 1565. Calvert Jones probably would have witnessed the firing of the cannons, which happens daily at midday and 4pm and during special occasions. During the same period, people around Wales enjoyed letting off fireworks and building 'rock cannons' by filling holes in rocks with gunpowder to celebrate key events such as royal visits, anniversaries and the opening of railways. Contemporary YouTuber Tom Scott employs an explosives engineer to recreate them, a recording of which he gave me permission to use in my soundscape.
Finally, as I am a singer, I wanted to use my own voice in the pice. I love performing Welsh-language folk songs and one of my favourites is the lullaby, 'Si Hei Lwli'. The song relays a story of deception; a women warning her lover, when the husband is home, and dates back to at least the mid-19th century. It's possible, then, that Calvert Jones may have known the song and maybe even sang it himself whilst he was a child in Swansea. The lyrics tell of ships and travelling, and so I thought it a very fitting song to include, as Calvert Jones would have travelled to Malta by sea.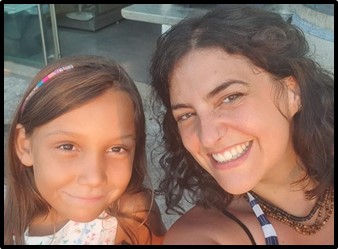 To complement 'Si Hei Lwli', I included a recording of my Maltese cousin's child Leah singing her beautiful rendition of 'Ongi' Ongi' Ongella', a popular folk song dating back to the middle ages. As children in Malta have been singing it for centuries, it's possible that Calvert Jones could have heard it on the street in Valletta where he took this photo, or maybe at a festa during his stay on the island. And as the song's title translates as 'Welcome', I like to imagine Richard Calvert Jones and his brand new camera alighting from his ship at Valletta harbour and being welcomed to the island by singing children, brass bands, cannon fire and fireworks.
Special thanks to: Emma Daman Thomas, Nia Daniel (The Welsh Music Archive at the National Library of Wales), Kevin Casha (Technical Co-ordinator, Malta National Picture Archive), Leah and Simon Dimech, Russell Arnott, Tom Scott, The Cory Band, Sara Treble-Parry (Amgueddfa Cymru), Bronwen Colquhoun (Amgueddfa Cymru). Permissions granted for all samples.