KITCHEN-TABLE POSTCARDS
With the current pandemic highlighting the instability of our food system, community organisations have stepped up to help cook, distribute and deliver food to those in need. This has emphasised the urgency for discussions to be had at a local level about the future of our food system, our relationship with food and how we as individuals and communities can support each other.
Community groups such as The CARE Project, an initiative set up by the Bedwas, Machen, Michaelston-y-Fedw and Rudry (BMMR) Parish Trust, volunteered to collect and supply food and essential items to those in need of support during the COVID-19 pandemic. In May 2020, the project helped 1,336 people in the local area with food parcels, prescriptions, deliveries and wellbeing services. More historically, groups such as the Gwent Food Fund stood in solidarity with miners in Wales as they went on strike between 1984–5 in opposition to the Thatcher government's plans to close coal pits in Wales. With support from individuals and collectives all over Wales and Britain, the Gwent Food Fund supported workers and their families by providing thousands of food parcels each week. The work of The CARE Project was photographed by Reverend Dean Aaron Roberts of the BMMR Parish Trust, whilst a postcard designed by Peter Cormack for the Gwent Food Fund visually ignited a sense of hope and strength to the mining community as they protested to protect their livelihoods. Both artistic responses capture the essence of community-level food groups across the country who are working hard to ensure that people have daily access to food as well as support during a crisis. They act as encouragement for more effective community engagement which is both supportive and inclusive.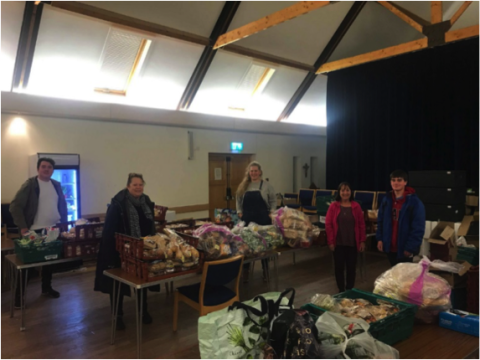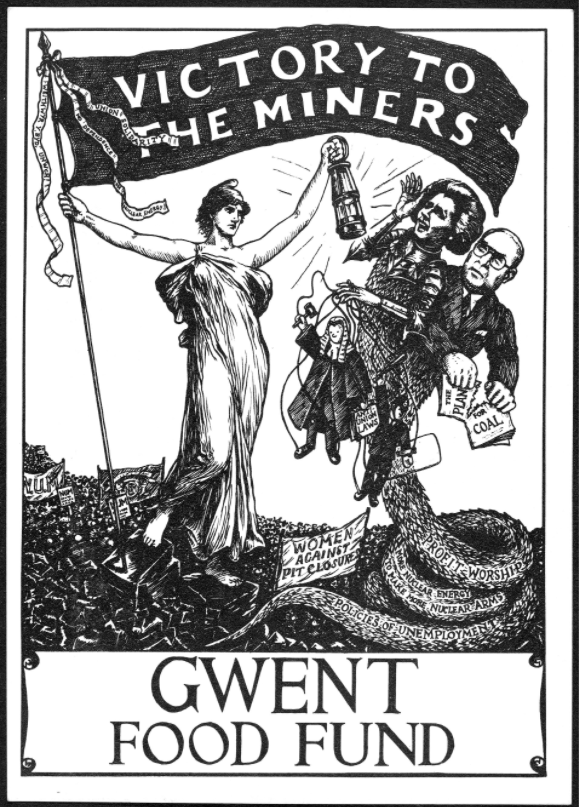 When thinking about the future of food in Wales and the role of communities in supporting each other, how can we create a food system which is more inclusive, supportive and sustainable? Where can discussions take place and how can the diversity of voices be heard and captured?
The concept of the kitchen-table as a set-up can be used by art organisations to discuss wider socio-political issues in an informal, accessible manner. The kitchen-table is a place of everyday ritual where people and families gather, where the views of others can be heard and where existing ideas and preconceptions can be re-shaped, re-considered or re-imagined. Existing community organisations such as Local Welcome, who operate in Wales and across the United Kingdom, already use shared meals as a tool for discussion. Refugees and asylum seekers new to the area are invited to join local residents to prepare a meal as a means for encouraging conversation and integration. Through this process of cooking and eating together, the group form a connection to the food, the experience and to each other. Yet, attending events can be daunting for individuals who may not feel comfortable contributing their stories or experiences and with eating together being less of an option with the current restrictions of the pandemic, a discussion sparked by food that takes place in the home seems more accessible.
When discussing food, it seems appropriate to be around food to appreciate its sensory qualities more vividly – food and flavours can bring back memories and ingredients can represent our social or ethical relationship with food. Each family, individual or collective has a different relationship and experience with the food system, so it seems important to gather as many of these views as possible to understand what it is that people want or are concerned about as we look to the future. The hope with the following activity is for a diverse range of voices, ideas and thoughts around the future of food and sustainability in Wales to be collected and shared on our Instagram page, to showcase people's views and inspire others to join the discussion.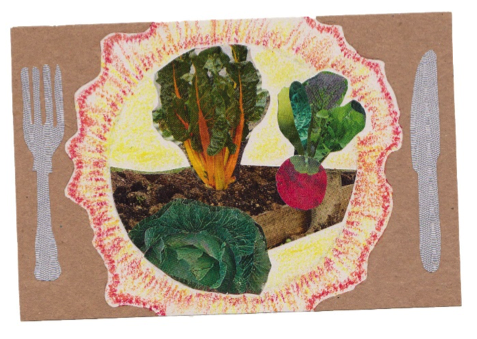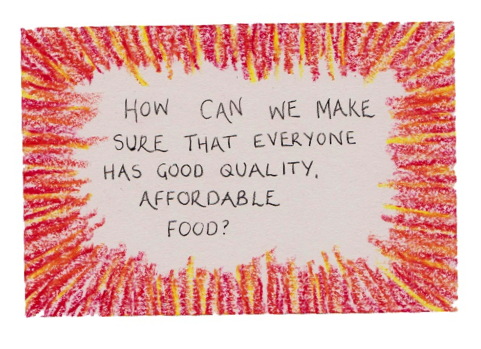 Design a postcard — Write on the back — Send it to a kitchen table
THE SENDER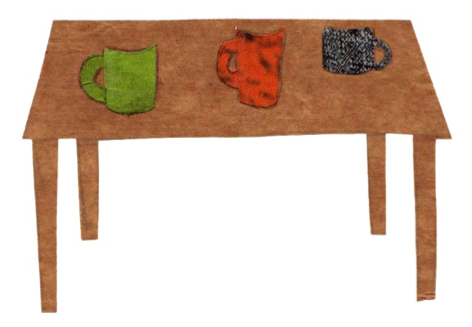 On one side include a representation of what the current or future food system in Wales looks or feels like to you.
This could be a collage, drawing, photograph or poem – whatever captures it best for you!

On the other side write down several thoughts, ideas, or questions you have about the future of food in Wales.
What aspects of the food system are important to you? Is it the environmental impact of the food system, food poverty, food post-Brexit or perhaps food waste? Could learning to grow food be part of the school curriculum? Would you like to see more community gardens and orchards being set up?
THE RECIPIENT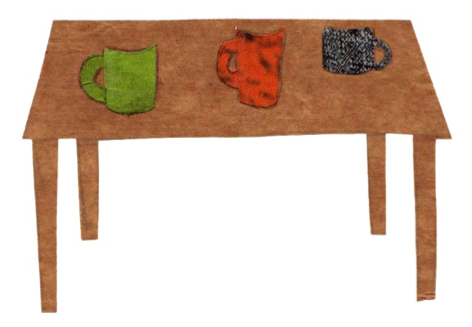 Over a cup of tea or a plate of food, discuss the questions or ideas written on the back of the postcard with your household or via a video call with friends and family.
Capture the key points of the discussion in any format you like – voice clips, video, or written word – and share it along with the postcard you received on our Instagram page.
Continue the

chain to keep this as an ongoing conversation between people for opening up dialogues and sharing ideas about shaping our future food system.
Follow our Instagram page to hear the views of others, send postcards to friends and family, share the page with local councillors and MPs and help develop a conversation about the future of food and sustainability in Wales! We look forward to seeing and hearing about your thoughts, ideas and visions.
---
ABOUT ME
I am an undergraduate in my final year studying History of Art at the University of Leeds. Currently I'm in the process of researching and writing my dissertation on relational art practices and community-level art organisations who are using a kitchen-table set-up to discuss wider socio-political issues concerned with food. As part of my course last year I completed a work placement with Deveron Projects, an arts organisation based in North-East Scotland. During my placement there were several projects which had an emphasis on food, and through assisting with these I became more interested in the relationship between food, hospitality and art.
I have a keen interest in food, cooking, foraging and gardening and help out with my local community gardening group when I return from university during the holidays. In May last year I took on an overgrown allotment and this year I'm really excited to be able to spend more time growing my own fruit and veg and trying out some more unusual varieties of vegetables and saving seeds to use for next year! In the future I would like to combine my passions for art and food and work with local communities to explore and strengthen their relationship with food in a creative manner.
---
Useful Links
The CARE Project
Gwent Food Fund
Local Welcome