Ragnar Kjartansson's The Sky in a Room (2018), co-commissioned by National Museum Wales and Artes Mundi and now part of the Museum's collection, is a site-specific durational performance in which a roster of artists performed Gino Paoli's 1959 hit song Il Cielo In Una Stanza (The Sky in a Room) repeatedly, day after day, until the end of the exhibition. The performance took place for five weeks in the Museum's Art in Britain 1700–1800 gallery, emptied of portraits and furniture bar a 'kick-ass rococo organ' originally commissioned by Watkin Williams Wynn in 1774, played by a succession of trained performers throughout the day.1
Kjartansson is known for his work with repetition, having frequently employed performers to participate in durational performances, from The National performing their song Sorrow on repeat at New York's MoMA PS1 to musicians lackadaisically strumming their instruments for hours on end in a baroque mansion in The Visitors. The Museum's panel text for The Sky in a Room highlights Kjartansson's intention for the performance to 'transform the Museum, dissolving space and time through the hypnotic repetition of the song', whose lyrics describe the power of the author's love for an anonymous sex worker to disappear walls into forests and ceilings into sky.2 In other words, the work seeks to evoke something immaterial through the very material labour of the roster of performers, who are rendered more visible by emptying the gallery of its contents.
Perceptions of performance art in the West have often historically been formed in relation to traditional theatre and are often discussed in the public imaginary in terms of acts of perseverance, self-inflicted discomfort or pain and antagonism; consider the wave of feminist artists in the 60s and 70s including Marina Abramović, Yoko Ono and Joan Jonas, who frequently used their bodies as mediums, subjects and objects in their work. RoseLee Goldberg points to how these practices tend to work with tensions wherein 'historically, performance art has been a medium that challenges and violates borders between disciplines and genders, between private and public, and between everyday life and art, and that follows no rules'.3
If Kjartansson's work with repetitive durational performance can be said to explore 'the tension between the individual and the collective' then this tension must be viewed with a consideration of the material working conditions of the performers involved.4 What happens when we stand in the space and ask the simpler questions; what are the performers' rates of pay? When are their breaks? How long are their shifts? How are they protected from abuse or harassment from the public? Do these questions make us uncomfortable when we're in the space with the performer(s), and why?
These questions might make us uncomfortable because of the contradiction at the heart of Western discourses surrounding art and labour, where the artist is simultaneously held up as a model of the opposite of work and as a blueprint for work ethics under neoliberal capitalism. This refusal to acknowledge art as a form of labour can, for example, be traced as far back as William Morris's Arts and Crafts Movement, and more specifically the Art Workers' Guild, which sought to resituate handcrafts as a community activity largely informed by socialist ideals. Dictionary definitions of art almost always describe art as an object and never as the result of labour.
We can therefore use the term invisible labour when discussing the material working conditions of artists as workers, as well as other workers in the arts and creative industries. The vast majority of tasks required to produce a piece of work like The Sky in a Room include, but aren't limited to: research and administration, securing funding, installation, documentation, marketing and promotion, stewards, security staff and cleaners' shifts and are all largely invisible, unaccounted for or even unacknowledged. Yet the 'work of art' itself takes centre stage and, somewhat strangely in this equation, holds the most autonomy.
The term invisible labour owes a great deal to liberal and Marxist-feminist discourses surrounding activities like housework in the late 20th century. When we contest and interrogate the very notion of work, as Amelia Horgan highlights, this line of enquiry enables us to identify significant terrains of exploitation and political struggle which are often hidden from view:
'Beginning in Italy in 1972 but rapidly spreading to the UK, the US, Canada and Germany women demanded 'wages for housework'. This was a rather unusual method of making a political demand in that the specifics of the demand – the wage – was of less importance than the effects that making the demand were intended to have'.5
We can see some parallels in the actions and demands of the Artist Workers' Coalition and the New York Art Strike Against Racism, War and Repression, two interlinked groups of artists who came together in New York City in 1968 to agitate for various reforms in the art world and to promote better working conditions for artists. As historian Julia Bryan-Wilson notes in her study of the topic:
'In 1969 an anonymous letter circulated in the New York art world, declaring, "We must support the Revolution by bringing down our part of the system and clearing the way for change. This action implies total dissociation of art making from capitalism." It was signed, simply, "An art worker." A nameless, self-described art worker issues a utopian call, implying that how art is made and circulated is of consequence within the political sphere. The urgent plea suggests that art work is no longer confined to describing aesthetic methods, acts of making, or art objects—the traditional referents of the term—but is implicated in artists' collective working conditions, the demolition of the capitalist art market, and even revolution'.6
The art strike notably 'started with a kidnapping', as artist Vassilakis Takis marched into New York's Museum of Modern Art and de-installed a sculpture that the museum had exhibited without his permission.7 The museum had collected and therefore ostensibly owned the work and Takis's 'kidnapping' was probably intended to highlight artists' disenfranchisement in regards to museums and the broader institutionalisation of art as a form of invisible labour.
Several high-profile contemporary artists produce work which deals with the relationship between artists, art workers and institutions, including Maria Eichhorn whose 2016 exhibition 5 Weeks, 25 Days, 175 Hours saw the artist close Chisenhale Gallery to visitors and requested that the gallery's staff withdraw their labour for the period of time described in the exhibition's title. Following a site visit to the gallery and discussions with selected staff concerning their working conditions and practices, the artist produced a two-part work consisting of a one-day symposium and a subsequent five-week exhibition during which staff were asked to withdraw their labour. With the gallery physically closed to visitors and with a distinct lack of objects or imagery, the work (here, both the lack of a visible artwork and the amount of work required to produce the exhibition) hinges on its position as an idea in the public sphere with the potential to generate discourse. By denying a traditional viewing experience, the exhibition also sought to raise 'questions for audiences about the visibility of the work that the staff does as curators and administrators, how the impact of its withdrawal will be visible and how its impact can be measured'.8
Eichhorn's 2000 exhibition Money at Kunsthalle Bern followed a similar model, where the artist chose to spend their allocated budget on renovations for the venue, resulting in an exhibition where visitors were met with galleries devoid of work but full of builders and plumbers carried out repairs. The work was supplemented by an exhibition catalogue which documented the history of the gallery, including the ways in which it has been funded historically by artist associations and more contemporaneously by private funders.9 5 Weeks was commissioned as part of an Arts Council England- and Department for Culture, Media and Sport-funded programme called 'How to work together', a three-year collaboration between Chisenhale Gallery, Studio Voltaire and The Showroom. Reflecting on the production of a publication entitled 'The Think Tank', a blog documenting the collaboration between the galleries and their staff, Andrea Phillips asserts that 'working together, in this instance was, firstly, a tactical move on the part of the institutions to receive funding, secondly, a perhaps unexpected initiation of forms of albeit fleeting solidarity, and thirdly, at times an extremely difficult negotiation'.10
This is pertinent because Eichhorn's work, concerned as it is with relations between the artist worker and the institution and its workforce, reveals the reality of cultural funding under the current and future political regime in the UK, where, alongside a wider sustained, wholesale contraction of state support in the form of austerity cuts to welfare and provisions for social services, arts organisations are increasingly required to rely less on public funding and more on corporate sponsorship, individual donors and (perhaps above all) a commitment to financial sustainability and investment. When museums and galleries across the UK were forced to shut due to COVID-19 in 2020, a number of large organisations implemented cost-cutting exercises including mass redundancies; Tate's intention to cut 313 jobs across its retail, publishing and hospitality divisions was met with an indefinite strike where workers demanded that no jobs should be lost when individuals earned over £100,000pa in the organisation, that 10% of an anticipated £7 billion government loan be used to save jobs and that Tate should join the Public and Commercial Services Union to call on the UK government to provide further assistance.11
The demands of striking Tate workers were amplified and supported by the 10 artists shortlisted for the 2020 Turner Prize in an open letter stating their solidarity. The letter asserted that those affected by the redundancies were the 'lowest paid, most precarious and most disadvantaged members of staff', with BAME members of staff disproportionately affected by the job losses, a claim Tate denied.12 Industrial action is of course a last resort when collective bargaining has failed to resolve the dispute between employer and employee and thrusts this conflict into the public sphere in a manner not dissimilar to the objectives of work produced by artists like Eichhorn; while the audience may not know whether staff followed instructions to withdraw their labour or if they were told to work against the artist's request, the gesture clearly intends to mimic the social, cultural and financial processes of the institution.
But what does solidarity mean in the art world? At a time when artists shortlisted by lucrative prizes decide to split the cash, is there a danger that institutions are co-opting radical politics and resistance? Writing on the difference between support and solidarity, bell hooks notes that 'Support can be occasional. It can be given and just as easily withdrawn; Solidarity requires sustained, ongoing commitment.'13 That the ICA's 2021 artist-in-residence is the bare minimum collective, an interdisciplinary anti-work art collective, points to a wider institutional interest in the working practices of artists directly involved in the work of social justice and equity. And as Dylan Huw writes, 'the energy of art-making in the current moment could not be further away from the depravities of the (market-dominated, cis-hetero-patriarchal, largely monocultural) 'art world', and is rather in work that prizes democratic participation and imaginings of a world beyond the here-and-now'.14 Indeed, Black Obsidian Sound System, one of this year's Turner Prize nominees, showed us that there is still value in biting the hand that feeds you when they said thanks for the nomination and demanded 'the right to thrive in conditions that are nurturing and supportive'.15
---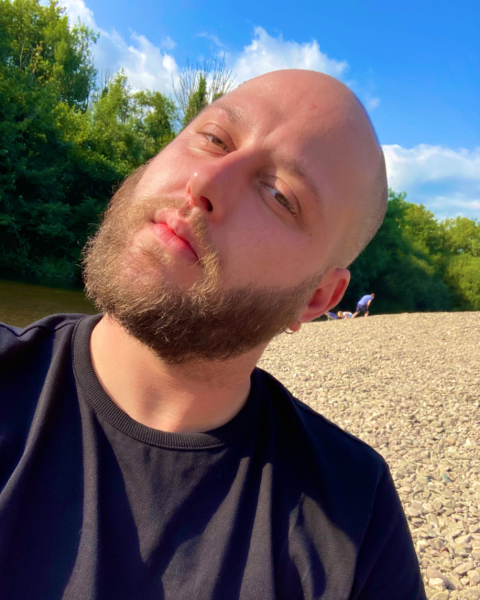 Stephen is a Cardiff-based freelance film programmer, producer and researcher who tries to foreground practices of care, equity and accessibility in his work in the film industry. Since 2014 he's worked for Artes Mundi, Chapter, Film London Artists' Moving Image Network and the Iris Prize Film Festival, and went freelance in 2019, working on projects including national outreach campaigns for Ken Loach's latest film, BFI Film Academies for young people and more. Among the many things he's passionate about is improving working-class, queer representation on- and off-screen, and he recently completed an MA in Film and Television at University of Bristol.
---
Notes
1 https://www.theguardian.com/artanddesign/2018/feb/02/ragnar-kjartanssons-five-week-marathon-of-music-the-sky-in-a-room-review
2 https://museum.wales/cardiff/whatson/9865/The-Sky-in-a-Room-by-Ragnar-Kjartansson/
3 RoseLee Goldberg, Performance: Live art since the 60s, New York: Thames & Hudson, 1998, p. 20.
4 https://thevinylfactory.com/films/ragnar-kjartansson-the-national-a-lot-of-sorrow/
5 Amelia Horgan, Lost in Work: Escaping Capitalism, London: Pluto Press, 2021, p. 39.
6 Julia Bryan-Wilson, Art Workers: Radical Practice in the Vietnam War Era, Berkeley, Los Angeles and London: University of California Press, 2009, p. 1.
7 Ibid, p. 13.
8 Polly Staple, Preface, 'Maria Eichhorn: 5 Weeks, 25 Days, 175 Hours', https://chisenhale.org.uk/wp-content/uploads/Maria-Eichhorn_5-weeks-25-days-175-hours_Chisenhale-Gallery_2016.pdf
9 Mai Thu Perret, 'Maria Eichhorn', Frieze, https://www.frieze.com/article/maria-eichhorn
10 Andrea Phillips, 'Invest in what? How to work together, the Arts Council's Catalyst Fund and art's contemporary economic infrastructure', https://howtoworktogether.org/think-tank/invest-in-what-how-to-work-together-the-arts-councils-catalyst-fund-and-arts-contemporary-economic-infrastructure/
11 https://www.frieze.com/article/why-tate-staff-are-strike
12 https://www.instagram.com/p/CEG4WZQF3wr/?utm_source=ig_embed
13 bell hooks, 'Sisterhood: Political Solidarity between Women', Feminist Review No. 23, Socialist-Feminism: Out of the Blue (Summer, 1986), pp. 125–138, available at: https://www.jstor.org/stable/1394725
14 Dylan Huw, 'Grassroots Collectives at the Gates', Planet Magazine
15 https://www.artlyst.com/news/turner-nominated-black-obsidian-sound-system-bites-hand-tate/