Statement from Rithika Pandey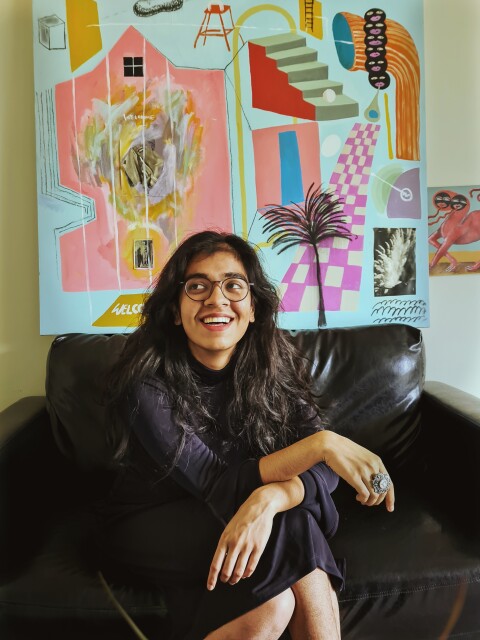 Short Bio
"Rithika Pandey is a contemporary visual artist from Mumbai, India currently based in the UK.  Through a multiform art practice she explores the surrealities of displacement in our contemporary socio-technological entanglements and the dissonances we consequently experience  at the fragile boundaries of mental life and lived experiences.
Her paintings, collages, installations and writing are an attempt to articulate the unique embodiment process of subconscious archetypes & material and its implications on body-space dynamics. Through learning and un-learning she builds a narrative landscape that attempts to move through histories and ancestral anxieties while placing itself in the real and urgent."
Inspiration
The work was inspired by the ethos and literal meaning  of Celf Ar Y Cyd - Art in Partnership/ Art together. The idea of having a dialogue and sharing insights and vulnerabilities from poetic experiences that inevitably bring us together is what I wanted to symbolize through the design. The characters with the flower heads represent a blossoming conscience and connection between them.
Statement from Mark Gubb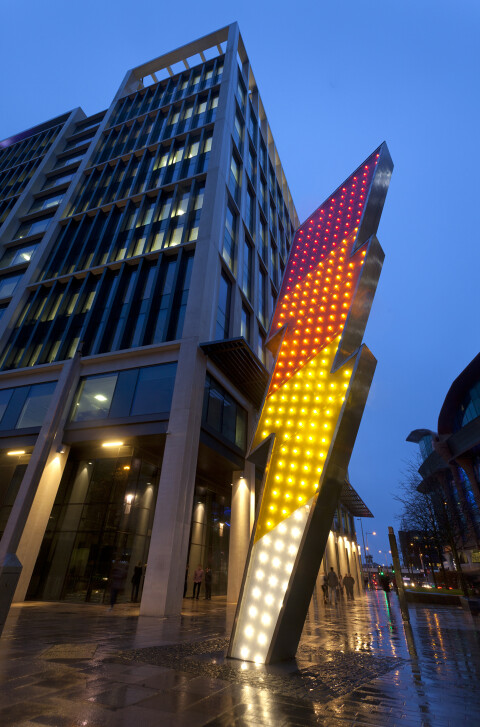 When I saw the call-out for an artist or designer to produce the branding for Celf ar y Cyd, what immediately came to mind was a project I'd been involved in with Nottingham Contemporary, around their launch, in 2009. The director at the time, Alex Farquharson, in collaboration with the designer Sara De Bondt, had come up with the idea of commissioning numerous logos for the new organisation, fifteen in total, all designed by contemporary artists and with a commitment to using all of them. Their thought was to approach the branding of the organisation in the same way they might approach a curated group exhibition. I'd always been struck by the imagination and creative-democracy of taking this approach to such an important element of an organisation's identity. We live in a time where branding, logos, and visual identity are King, so to take such a comparatively risky and dynamic approach to the creation of a visual identity seemed bold, generous and exciting.
In specific to relation to Celf ar y Cyd this approach seemed to perfectly capture the essence and ethos of the project. As well as creating a varied and dynamic visual identity it would represent the core value of reaching out to as wide a community as possible. So I proposed this approach, being careful to acknowledge the source of the idea, and asking the question, "Why give such a prestigious opportunity to one artist when it can be shared by many?"
This idea of collaboration and exchange is something that has excited me more and more in my own practice over the years. As an artist I often find myself – either through the research process or in the fabrication of work – entering in to quite extended dialogues with people about a subject, or approach to making, which feed the work as much as anything I bring to it. In some instances I quite explicitly invite people in to the process, or fabric, of the work without whom it simply couldn't exist; whether that be an extreme metal drummer, a fairground ride painter, or a canine resident of Battersea Dogs and Cats Home. When I have occasion to discuss the work at a later time, I often find myself talking more about those relationships and the dynamics of what came out of the exchanges than the finished work itself. That's not to undermine the importance of the finished work, but just to acknowledge that I couldn't do what I do were it not for those other people and that a shared experience, and the relationships developed through it, are much more rewarding than anything that ever happens in isolation.
So the approach we took to the Celf ar y Cyd visual identity was exactly as stated above, setting out to commission ten artists from across Wales. It would have been easy for us to reach out and commission the usual suspects (the artworld is full of usual suspects – in this instance I might even class myself as one of them) but we wanted to ensure they came from as broad a pool of arts professionals in Wales as we could. So we reached out to networks and organisations across the country to ask for nominations of artists who they felt would be able to approach this proposition as an extension of their practice. It felt important to stress that we weren't commissioning people to undertake a graphic design project, but to approach this idea of creating a logo from within their existing practice. By doing so we could ensure an exciting range of styles and approaches that were as representative of the artists as they would be of Celf ar y Cyd itself.
And, as hoped, what we received was a wonderful range of ideas and responses, as unique as each of the artists we commissioned. As per the original proposition, they will all now be used throughout the Celf ar y Cyd programme, whether that be print, online, marketing, merchandise, business cards, letter-heads; wherever a visual identifier for the project is needed, one of the logos will be present. From a personal point of view it was a pleasure to help feed in to the process, particularly to bring something to it that's so representative of the project overall.
S Mark Gubb is an artist living in Cardiff
www.smarkgubb.com